Shoppers find freebies in Bunnings scavenger hunts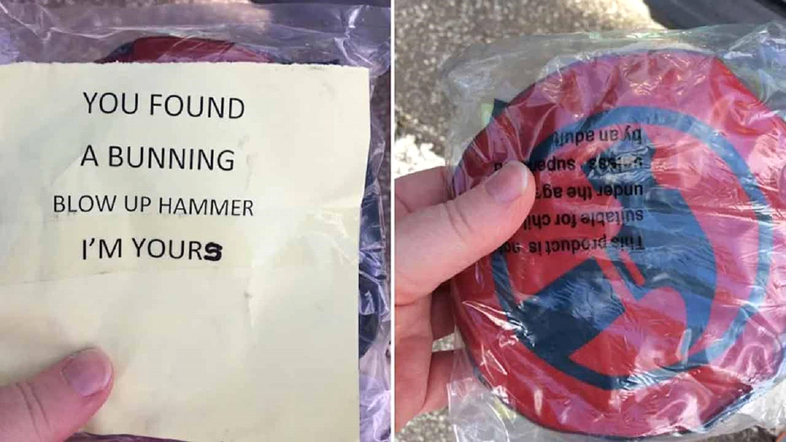 A Bunnings customer has shared the small act of kindness she experienced after finding a gift for her children randomly placed on a shelf in her local store.
Taking to social media, the Melbourne mum said she was surprised to find a free, wrapped gift with a note that read: "You found a Bunnings Blow-Up Hammer - I'm yours!".
"At our local Bunnings today, one of the staff handed my daughter a free colouring kit with pencils, a ruler, and a pencil case. I also found in a random aisle this blow-up hammer sitting on a shelf," she wrote.
She shared her find on the Markdown Addicts Australia Facebook page, and was surprised to find her story wasn't unique.
Others shared that they had also found randomly hidden Bunnings-branded children's toys at their local stores.
"I love how interactive they are with kids, our local one told my boys last week that there's a hidden crown somewhere in the store, if they find they get a free building block set," said a mum from Lake Macquarie.
"Needless to say they wouldn't leave until they found it."
While some shoppers said they had never heard of these secret in-store gifts, others confirmed it was a real thing, depending on where you live.
"We found a Bunnings drink bottle on their outdoor settings, it had a tag on it saying finders keepers! The lady on the till said we can just take it," another customer said.
Others said staff would also hand out gifts at the door.
"My daughter is Bunnings crazy!! She is only 3.5y but she screams in excitement at the top of her lungs when we go there. A lady gave her a Bunnings bear & a blow-up hammer once," a mum said.
Other customers said they had been given everything from 10 pin bowling sets and toy trucks to children's Bunnings-branded fluorescent "Tradie" vests.
Bunnings has also confirmed that staff at individual stores across the country can offer different in-store initiatives as part of their customer service.
"Our team are always looking for ways to provide great service and will often go above and beyond to make sure customers have the best shopping experience," a Bunnings spokesperson told Yahoo News Australia.
"We host a variety of free D.I.Y. workshops, kids activities, and in-store events that are organised and run locally through each store."
Image: Yahoo News