ALDI's brand new "Corner Store" unveiled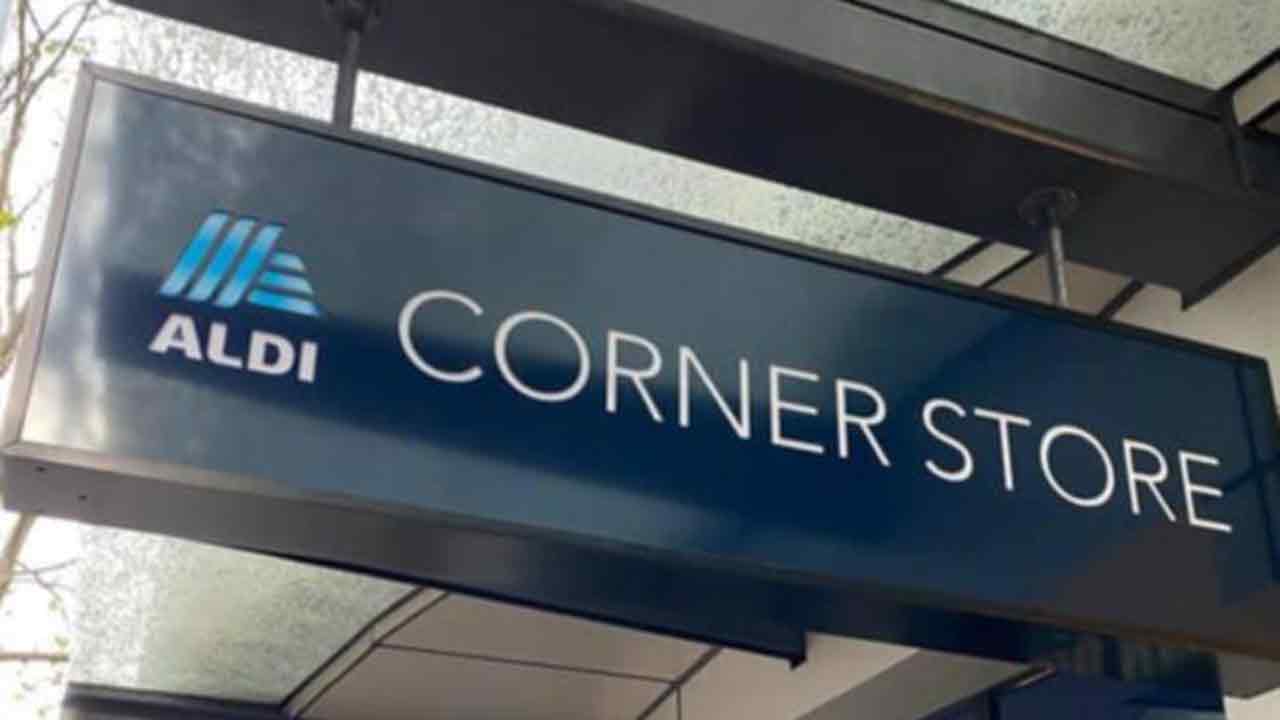 A photo of ALDI's newest store has appeared on social media, with the supermarket giant unveiling its first ever "mini supermarket" in the Sydney suburb of North Sydney.
A shopper posted a photo of the new signage on the Aldi Fans Australia Facebook page, confirming the new store will be in the same location as the previous ALDI.
Open from today, the ALDI Corner Store offers groceries and Special Buys just like a regular ALDI but is only half the size and features a new store layout, an in-house cafe, fresh orange juice, an artisan bakery, and self-serve checkouts.
ALDI chief executive Tom Daunt said the new store will sell a slightly different range of grocery items - including smaller-sized packs, convenience food and fresh products.
"There will be some range changes, so some of the products that don't typically really appeal to inner-city urban dwellers, like 10kg dog food, we have removed and that has given us space back and allowed us to squeeze a traditional Aldi store into a smaller format," Mr Daunt told The Australian.
"The corner store is about developing a format to allow us to bring the Aldi offer to those customers in high-density urban locations."
The store also offers ready-to-eat lunch and dinner options and 'pup parking' outside the stores where owners can tie their dogs while they shop.
The interior of the new store has been complemented by street artist and muralist Joel Moore, aka Mulga, who's artworks in-store celebrate the store's surrounding neighbourhood.
View this post on Instagram
Despite the current COVID-19 restrictions, the retailer decided to open the store without encouraging customers to visit just yet.
"We have proceeded with opening the new ALDI Corner Store in North Sydney, taking into account all the current COVID restrictions," an ALDI Australia spokesperson told The Daily Mail.
"Given the lockdowns in Greater Sydney, we don't feel it is appropriate to drive interest or additional customer traffic to Corner Store at this time.
"We are fortunate that as an essential service we are open for trade, and in these challenging times feel it is our responsibility to ensure North Sydney locals have access to the re-opened store to make their essential grocery purchases as needed."
The completion of the store comes just months after the supermarket chain submitted an application to North Sydney Council to convert the existing outlet into a smaller store.
The new ALDI Corner Store will be open from 7am to 9pm from Monday to Friday and from 8am to 8pm on weekends.
Image: Aldi Fans Australia / Facebook