Live broadcast debacle: News anchor hilariously interrupted by son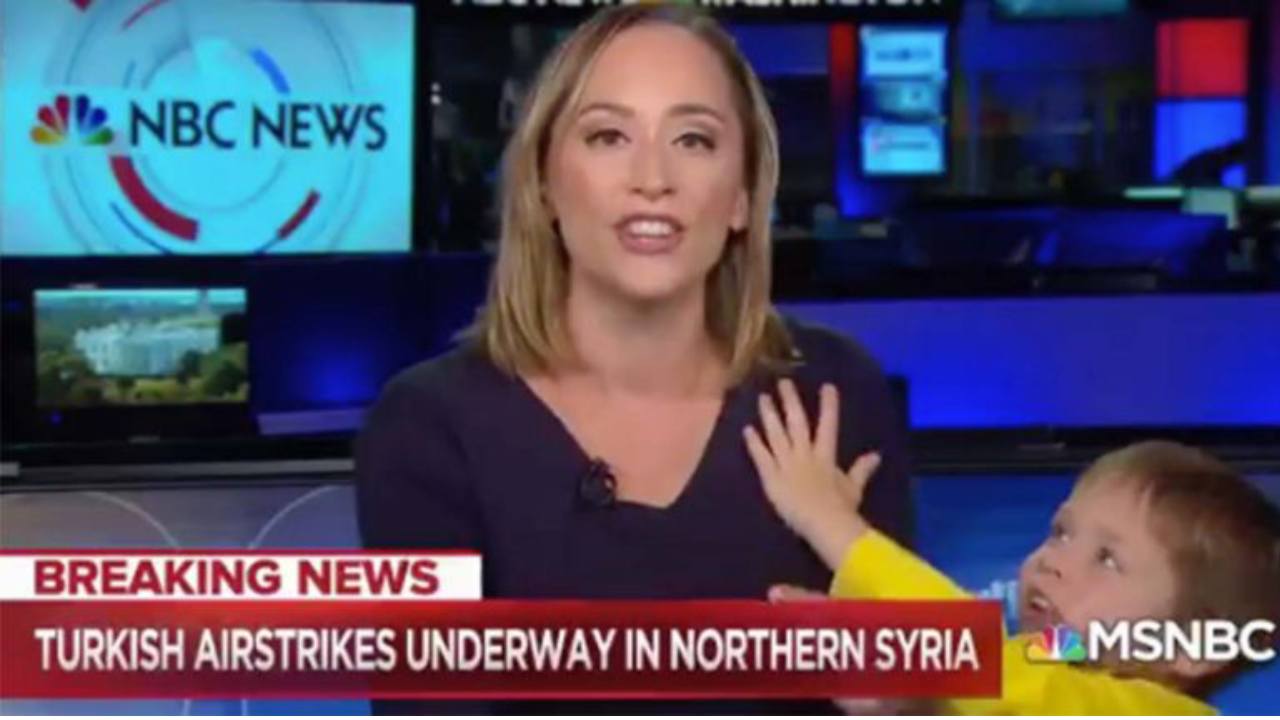 A news anchor was met with the strange situation of shooing her son off of a live broadcast.
American channel NBC's very own national security and military correspondent Courtney Cube was busy with her intense report on the Syrian crisis when her son managed to stumble onto her set in front of cameras.
At first, the journalist appeared flustered by the situation when she apologetically said: "Excuse me my kids are here, live television."
However she took the odd obstacle in her stride and continued on with her report despite her son pulling her hair to get her attention.
Sometimes unexpected breaking news happens while you're reporting breaking news. #MSNBCMoms #workingmoms pic.twitter.com/PGUrbtQtT6

— MSNBC (@MSNBC) October 9, 2019
A producer at the Washington DV studios eventually cut to a mp of the Middle East so Kube had time to get her son off of the live set.
When the camera came back on her, her young son was no longer there but it didn't take away from the hilarity of the situation for viewers.
"I love everything about this (well, except the news being reported)," former U.S. Acting Solicitor General Neal Katyal said.
Others praised MSNBC for allowing working mothers to bring their children to work.
"MSNBC, thank you for highlighting this sweet moment and supporting your working moms," one user wrote.
A fellow journalist shared his own hilarious experience, adding "I completely understand you @cKubNBC."
Attached to the sympathetic tweet by Jacob Mycoff, a meteorologist for US based station WMassNews was an image of her daughter cheekily in the corner of one of his broadcasts.
When you take your kids to work.... pic.twitter.com/BtavdwMhmu

— Jacob Wycoff (@4cast4you) August 18, 2019
Kube has twin boys named Jake and Ryan, so it is not clear which one exactly was causing trouble for his working mummy however MSNBC didn't seem to mind the funny moment.
It's not the first time a parent has been interrupted by their kid while talking on live TV.
Professor Robert Kelly was famously disturbed by his children while he was speaking to the BBC in 2017.
Join Over60
Join our community of over 400,000-plus members today and get the latest Over60 news, offers and articles.
Get all the latest Over60 news, offers and articles.