Gabby Petito's dad breaks down during eulogy
Gabby Petito has been honoured at an emotional memorial service in her hometown of Long Island, where her tearful father hinted at long-standing relationship troubles with her fiancé.
Gabby was farewelled at a funeral home packed with mourners, exactly one week after her body was found at a campsite in Wyoming.
"The entire planet knows this woman's name," her father, Joe Petito, told the crowd.
"And she's inspired a lot of women and a lot of men to do what's best for them first. Put yourself first. And do it now while you have time."
"I couldn't be more proud," he added. "If there's a relationship that might not be the best for you, leave it now."
The hint at Gabby and Brian's tumultuous relationship comes after Joe slammed Brian Laundrie, who remains on the run after refusing to cooperate with police.
Joe went on to tell those at the memorial, "I don't want you guys to be sad."
"Gabby didn't live that way. That wasn't her way," he said.
"As a matter of fact, if you knew Gabby she was always a pretty happy girl. People gravitated toward her. Her nature was always to smile and treat everybody kindly."
He went on to speak of her "ridiculous blue eyes" that managed to keep her out of trouble as a child, as he said "Gabby is the most amazing person I've ever met."
Gabby's stepfather James Schmidt shared a tearful embrace with Joe at the service, as he began to speak about Gabby.
"I spent a good portion of my life working and trying to earn money to provide for our family and our kids, to give them the best life," Mr Schmidt said.
"And Gabby, at 22 years old, helped teach me that you can always make money, but you can't make up for lost time," he said. "Gabby loved life and lived her life every single day, every day."
"She is an example for all of us to live by. To enjoy every moment in this beautiful world as she did. Love and give love to all, like she did."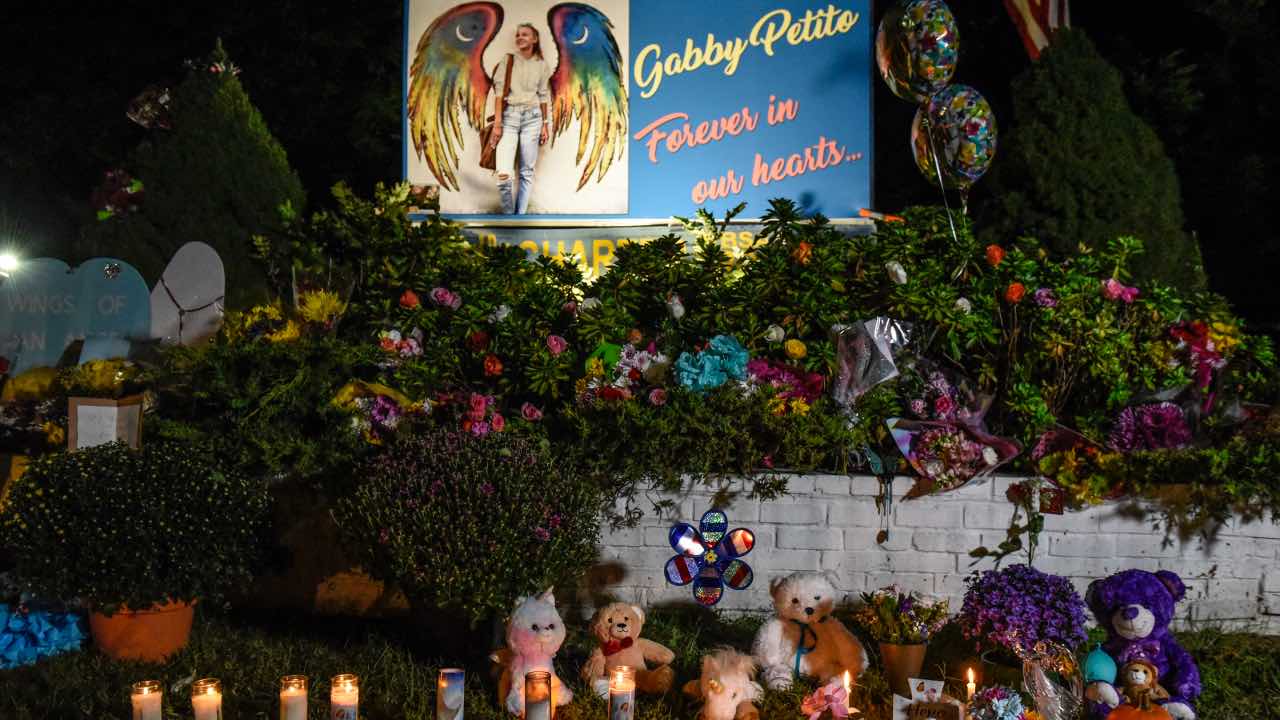 Image credits: Getty Images
The entire wall of the fun real home was decorated with photos of Gabby, with an urn and candles in the centre.
The service was open to members of the public, and was also livestreamed from the Holbrook funeral home and many tuned in to pay their respects.
Among those in the crows were more than 100 firefighters to support Mr Schmidt, who is also a firefighter.
Image credit: Getty Images
The exact cause of Gabby's death remains unknown, as coroners have ruled her death a homicide.
Gabby's fiancé and number one person of interest Brian Laundrie remains on the run after trying to evade a warrant for his arrest issued by the FBI.
Image credits: Getty Images/Holbrook Funeral Home