How to secure a rental if you're a pet owner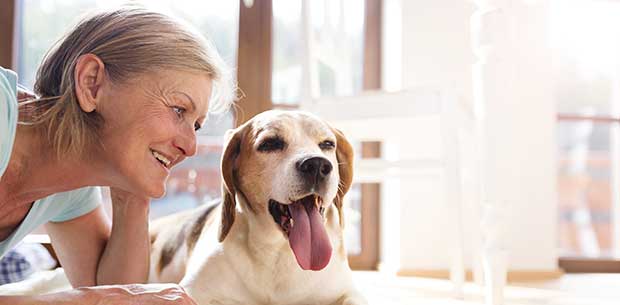 Renting as a pet owner can be frustrating. Horror stories abound of landlords being left out of pocket after someone's beloved pet scratched up the curtains, dug up the landscaping or bit a chunk out of the stairs.
As a result, some tenants choose to go without creature comforts.
Others who allow themselves a pet – particularly a dog – can heavily limit their choices, firstly by fencing needs and secondly, by the goodwill of landlords.
Faced with similar problems in Australia, one accommodation website has grasped the nettle by launching a "pet resume" template.
Rent.com.au estimates that only 25 per cent of its listings are specifically "pet-friendly" so it has devised the resume to encourage property owners to reconsider their no-pets stance.
The resume would include vaccination details, type of dog or cat, registration papers, training information, and any additional notes about house training or pet behaviour.
Nadia Crighton of Australian firm Pet Insurance Australia applauded the concept saying many property owners might allow a pet if they knew the full background and behavioural tendencies of the animal.
"In the current renting market it can be almost impossible to find the perfect place where our beloved cats and dogs are welcome."
The resume basically allowed pet owners "to showcase how responsible they are, and how good their pet is".
While there's no word of a pet resume in New Zealand, there are several websites dedicated to helping people find pet-friendly holiday accommodation.
Heather Simpson of Kapiti runs Petscancometoo.co.nz. She lists motels, baches, motor camps and homes which allow pets, although she has helped people find longer-term accommodation, particularly migrants or earthquake refugees.
The only problem she has is when the odd pet owner does not respect the house rules set by the advertiser.
A lot of property owners stipulated that the pet must stay outside and most pet owners did not like it, she said.
But she could also see it from the advertiser's point of view, and it was the reason why some of them were now asking for bonds.
"Clients cancel their advertising because there's the one in 100 animal or owner that doesn't stick to the rules and they do too much damage, and the owner of the property throws it in the too-hard basket.
"Ninety-nine per cent of all dog owners, particularly, are good. They're genuine people who care for their animals and don't break the rules because they want to take them away all the time."
Simpson says she started the site 10 years ago after constantly looking for accommodation that would take their dog when she accompanied her husband on his work trips.
She had stayed in hundreds of pet-friendly places and decided to put her knowledge to work.
"My son said to me one day, why don't you start a website? So I did."
For those looking for long-term rentals, Pet Insurance Australia has put out some tips.
Be prepared. Have all the information on hand that will prove your pet is a good tenant.
Get to know your local agent. Get them onside. Introduce them to your well-mannered pet.
Ensuring your pet is well mannered, easy to love and house-trained is vital. Keep up-to-date with your pet care routine and have evidence of this. Sell yourself as a responsible pet owner.
References from previous pet-friendly dwellings and people who know your pets are important also.
Have room to move on the price you want to pay. If your choice of home is advertised as a pet friendly, great. If not, be prepared to negotiate. You may have to pay more in rent or agree to more routine inspections. And - naturally - agree to fix any damage.
Word of mouth. Talk to your friends and family. They may know a property manager, or a home coming up for rent. Put your feelers out well in advance.
Just as in New Zealand, there are many - 2.16 million in fact - Australian families who rent and also have pets so there are certainly many pet-friendly homes available for rent, they just may not be advertised.
Many landlords are pet owners too, and understand that a companion animal is an important part of the home. "However the fact remains that some rental owners have had terrible experiences with pets," Crighton said. "From noise problems, damage and smell so you need to prove that your pet does not fall into this category."
What's your experiencing of renting and pet-ownership? Do you have any tips from either a landlord or renter perspective? Share them in the comments below.
Written by Catherine Harris. First appeared on Stuff.co.nz.
Related links:
Why dogs get bored with their toys
Photographer captures kittens mid-pounce
Join Over60
Join our community of over 400,000-plus members today and get the latest Over60 news, offers and articles.
Get all the latest Over60 news, offers and articles.