Hakavai turns one! Turia Pitt's adorable party for son's first birthday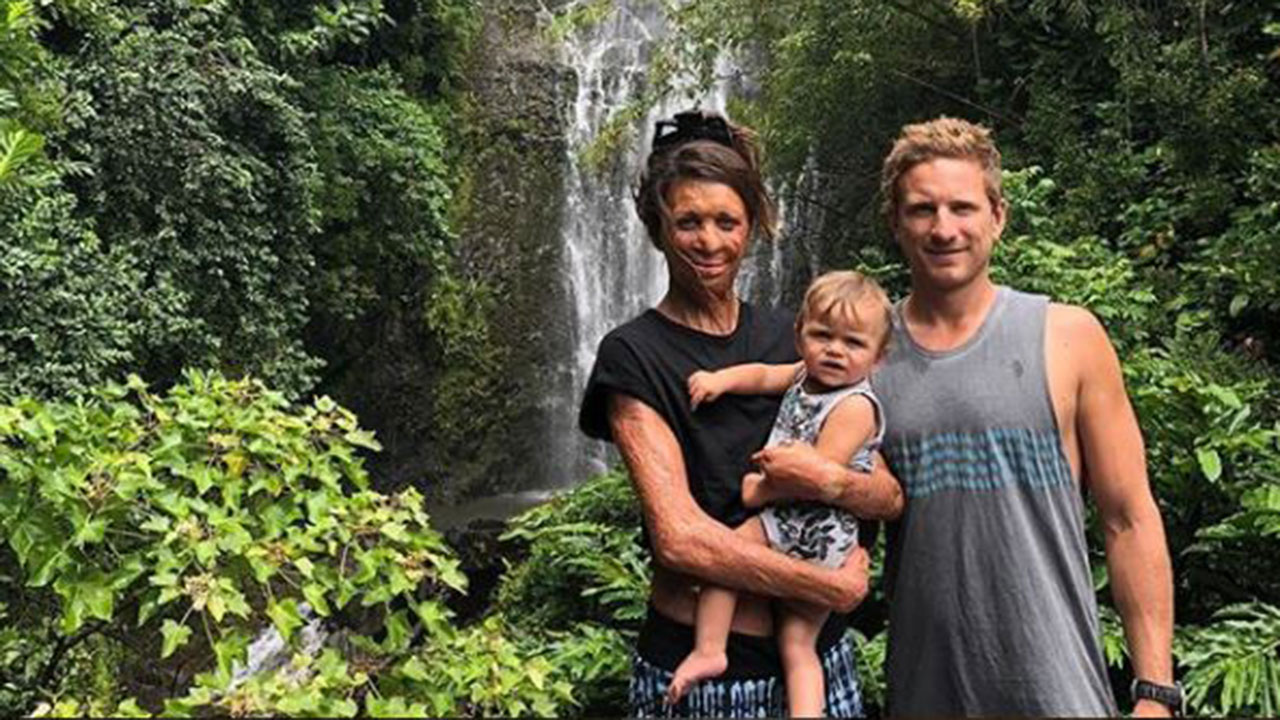 Scroll down to view the gallery below
It seems like only yesterday that Turia Pitt and her fiancé Michael Hoskin welcomed baby Hakavai into the world, and now the proud parents are celebrating his first birthday.
The young couple threw a bohemian themed birthday bash for little Hakavai, as they dressed up in flower crowns and tropical outfits.
The picnic, which was held at a park, was attended by Turia and Michael's closest family and friends.
Through her newsletter, the burns survivor shared photos of the occasion as she said her son is a "pretty cute" toddler.
"Hakavai turned one! I know, crazy right? We had a little party for him on the weekend," she said.
"I know I'm biased, but he's pretty cute."
Beaming with joy, the family celebrated the milestone 12 months after the birth of their son, who was born on December 8.
"We are totally in love, and just so stoked," Turia said at the time.
After welcoming a new addition into the family, the pair have taken some time away from the spotlight to focus on raising their child.
And now, a year later, Turia has a few words of advice she would like to share with mothers.
"See, in my first year of being a Mum, I found that I needed to simplify some things in my life," she said.
"Because, suddenly, I had a baby to look after, and that meant my capacity for 'doing things' was reduced.
"I had to drop my expectations for what I could realistically achieve in one day, especially in the first few months. And I found that I needed to make time for myself – for the things that I enjoy doing.
"I think that's a feeling anyone can relate to – whether you have kids or not. Somehow, amongst all the priorities and "to-do's", you've got to make time for yourself.
"So, today I wanted to share one of the simple tips that helped me do that this year. It's something I'd love you to try, especially now when there's a lot going on, and everyone is in a mad rush to get things done before the holidays."
She went on to offer words of encouragement, and told mothers to ask themselves one question every morning: 'What would make today great?'
"Note: You're not asking, 'What do I have to get done today?' You're asking yourself what would make your day awesome," she said.
"Is it calling your best friend? Finishing off that major pitch? Buying a new plant? Going for a run or a surf? Whatever it is, actively visualise yourself doing that thing today.
"And then I need you to prioritise it. Give it value. Whatever would make your day great today, do it. I hope you take this tip on board, and start asking yourself this question. It can, and will, radically change your day."
Scroll through the gallery above to see photos of baby Hakavai's special day.
Photo credit: Instagram @turiapitt
Join Over60
Join our community of over 400,000-plus members today and get the latest Over60 news, offers and articles.
Get all the latest Over60 news, offers and articles.