Engagement ring sparks fury: Too small or just right?
For many years, there has been debate surrounding the importance of an engagement ring's size and value.
While some are adamant they would prefer to choose their own ring, others believe it doesn't have as much importance as many would think.
One bride-to-be took to social media to slam her fiance for proposing with a "tiny" engagement ring, and since then the post has gone viral.
The anonymous woman shared a snap of the band online and asked if she was being "shady" and "materialistic" for not wanting to wear a ring with a "little a**" jewel.
"We been together for eight years and talking about getting married for almost three," the bride-to-be wrote.
"This the ring he said he saved up to buy me. Am I being shady or materialistic if I tell this mf I don't want this little a** ring? [sic]."
The photo showed a delicate gold band with a small diamond attached.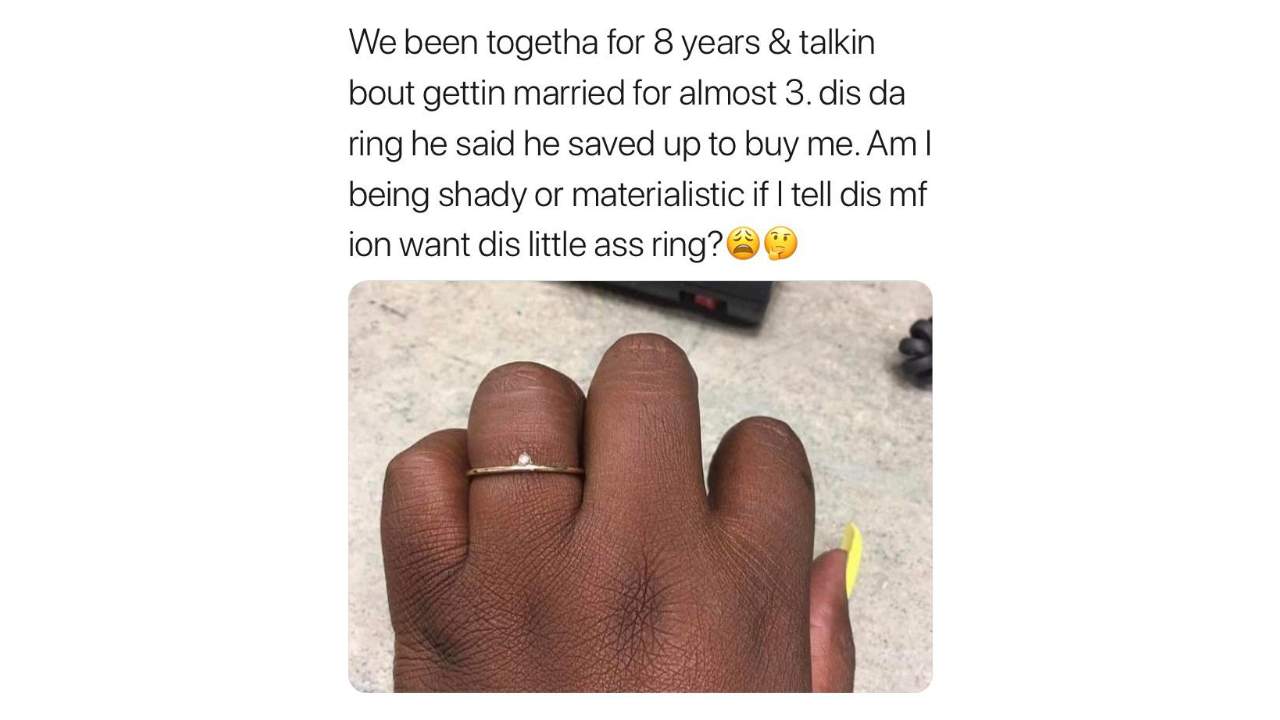 A screenshot of the post has since attracted thousands of comments and reactions, with mixed opinions.
One user agreed with the woman's stance, writing: "I'm not materialistic when it comes to things like this but if my man proposed with THAT I would be full on insulted.
"He went out of his way to find the cheapest possible option; which to me says that he's probably like that in every aspect of the relationship and will probably be like that in every aspect of their marriage."
Another added: "Honestly, I'm with her on this. You can get affordable rings that don't look like they came out of the little dispenser machine next to the stickers and gumballs at Cici's Pizza.
"Even with a small budget he could have gotten something that won't immediately snap if it gets snagged, and I wouldn't trust that jewel setting to last more than a week with everyday wear."
However, a few came to the boyfriend's defence and thought the woman was being harsh.
"I'd much rather have just a plain band than the diamond chip," one person argued. "Because what I care about is him wanting to spend his life with me, not a diamond."
"I kinda like her ring. It's very modern and sleek looking. I'd wear that in a heartbeat," another added.
The minimalist style ring has become an increasingly popular option for those looking for delicate additions to their wardrobe, albeit not for engagement rings.
Join Over60
Join our community of over 400,000-plus members today and get the latest Over60 news, offers and articles.
Get all the latest Over60 news, offers and articles.