Chloe Lattanzi's touching tribute to mum Olivia Newton John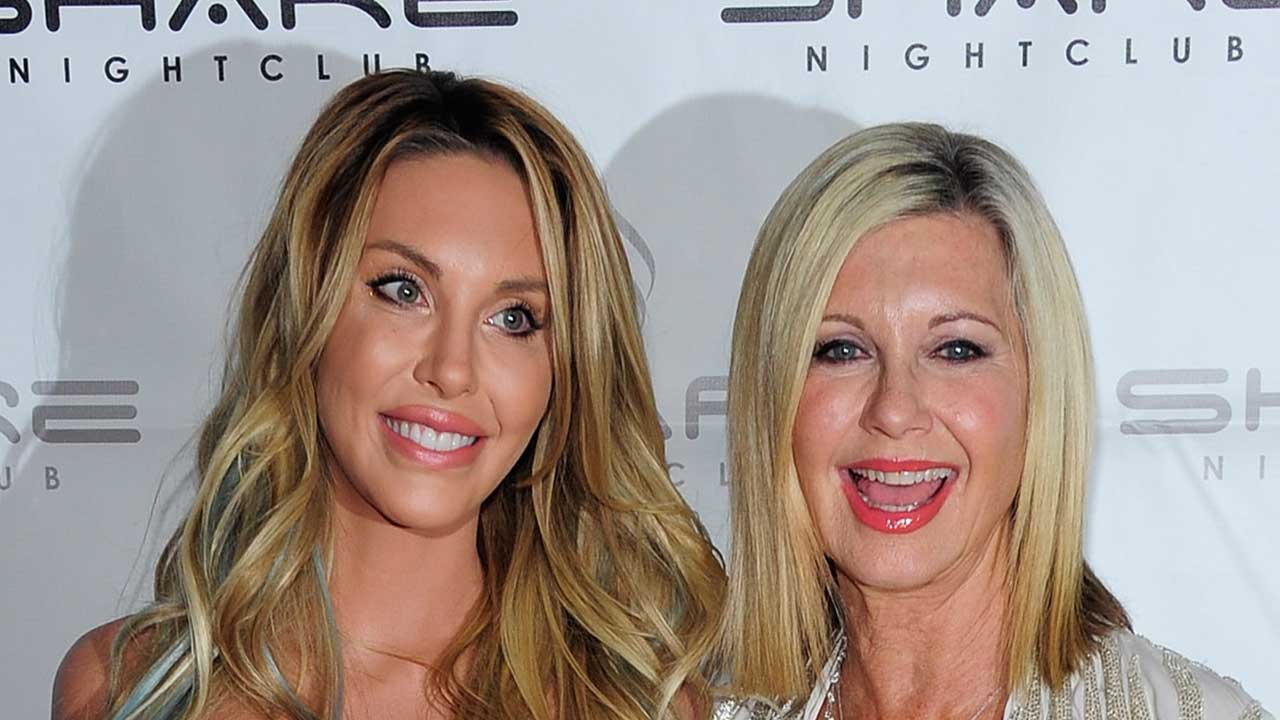 Olivia Newton John's only child, Chloe Lattanzi, has penned an emotional tribute to her famous mum for Woman's Day.
The 32-year-old daughter of the Grease star candidly discussed her relationship with her mum and how have they've grown closer, even through the most difficult moments in their lives.
Chloe recalled the confronting first time she learnt her mum had cancer at the age of six.
"I was just six the first time she had cancer and Mum never told me," she wrote.
"Then we moved to Australia when she was in recovery and one of the kids at school ran up to me and said, 'Your mum has cancer and she is dying, haha.'
"It was awful. I went home in tears and confronted my mum and said: 'Why didn't you tell me, I could have taken care of you?'
"Mum having cancer instilled a fear of loss in me at a very early age – I was scared I might lose her at any moment."
Chloe explained that from that moment, she grew very protective of her mother.
"Now Mum is battling cancer again, but this time I am not a kid, I am an adult. I felt like my whole world was collapsing in on me. After going through a denial phase, I was angry that such a wonderful, kind, amazing, generous woman had to go through hell again," she shared.
"It is terrifying and unfair, and it makes me mad that such a beautiful woman has to face this."
She vulnerably shared how the close duo find it hard to articulate the emotions they are constantly battling.
"There is no instruction manual on how to deal with all of this, and still today Mum and I find it very difficult to talk about what she is going through."
Chloe said that Olivia's cancer battle has taught her to appreciate every moment she gets with her mum.
"Mum and I have never been as close as we are today – we're both learning how to protect each other and how to talk about this without being scared."
"What cancer has done for Mum and me is to remind us to take every moment we can to enjoy each other," she wrote.
Chloe explained that when they spend time together, they enjoy watching movies, shopping, cooking and laughing.
Looking towards the future, Chloe said Olivia is looking forward to her daughter marrying her fiancé James Driskill.
"Mum can't wait for us to get married and one day be a grandma."
Chloe said that once she has a baby, she knows that she will be able to rely on her mum to show her the ropes and support her.
"We've been through a lot together, but not a day goes by when I'm not happy and proud to call her my mum."
Join Over60
Join our community of over 400,000-plus members today and get the latest Over60 news, offers and articles.
Get all the latest Over60 news, offers and articles.