Rafael Nadal's on-court superstitions: Can you spot them?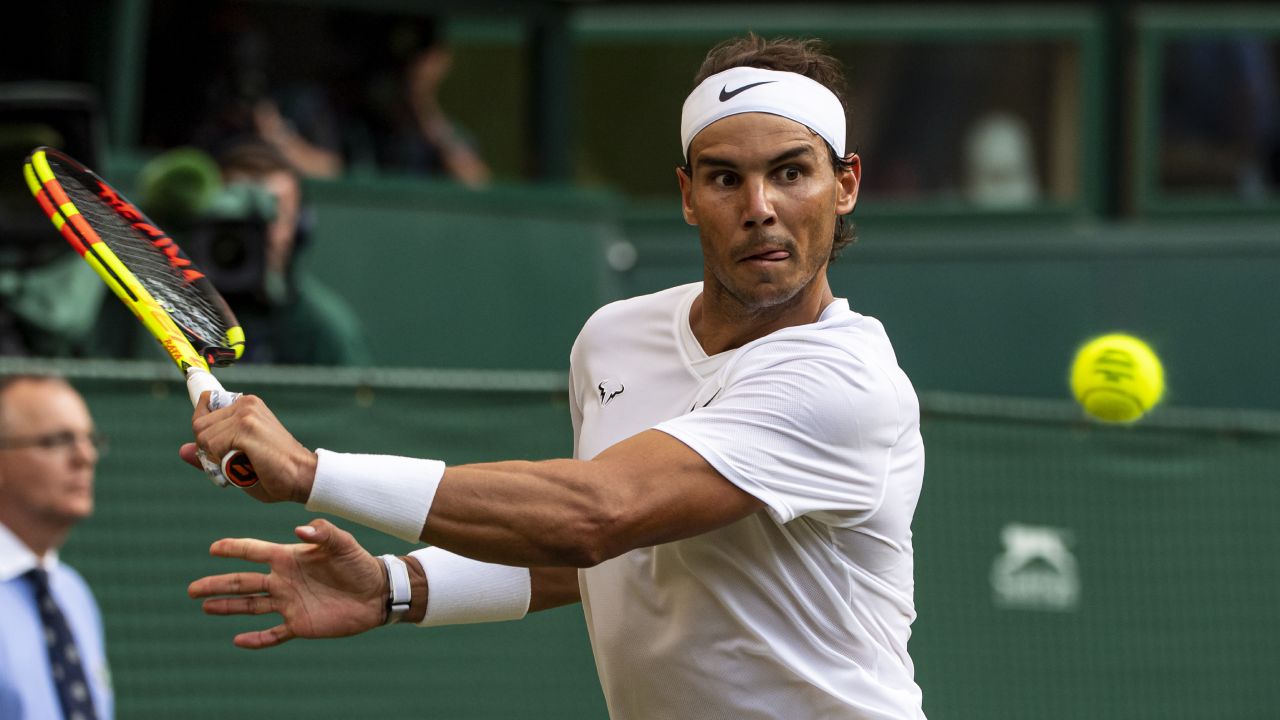 Competitive sports are rife with superstitions – many athletes will perform a specific routine or carry 'lucky' items in the belief that they will improve the chance of winning.
Rafael Nadal is no exception to this. The Spaniard has a series of well-documented habits.
He always walks on court with one racquet in hand, and then puts down his bag on the bench and turns his tournament ID to face up. He will then take off his jacket facing the audience while jumping. His two drink bottles will be lined up on the floor with the labels facing the baseline of the end he is playing.
The most 'Ritual-Tennistic' player of all time.

Rafa 'The King of Clay' Nadal.#Wimbledon2017 pic.twitter.com/H1k6JkSQeN

— Naman Saxena (@iamnamansaxena) July 7, 2017
"I put the two bottles down at my feet, in front of my chair to my left, one neatly behind the other, diagonally aimed at the court," Nadal wrote about the ritual in a
2011 article
. "It's a way of placing myself in a match, ordering my surroundings to match the order I seek in my head."
He will not leave his chair or cross on changeovers before his opponent moves first.
When he is about to serve, he will pick his shorts out from his bottom, tuck his hair behind his left ear and then his right before wiping his forehead or fiddling with his nose or shirt, bouncing the ball a certain number of times and then serving. If he has a ball in his pocket, he will take two more from the same ball boy or girl, never from two different people.
Nadal's little ear/nose touching ritual is iconic. pic.twitter.com/JU28KgyZgf

— Elöise Clarke (@eloisegclarke) July 4, 2019
Shoulders, Hair behind the ears, Nose, Shorts out the Arse Crack...Nadals ritual and new take on head shoulders knees & toes before a serve 😂 #Wimbledon #Tsonga #Nadal pic.twitter.com/8B2knbd6Bk

— Michael Roberts (@MikeyRobs91) July 6, 2019
As if I never noticed nadals superstition before serve when it's soooo noticeable 😂 #Nadal #Wimbledon pic.twitter.com/SdYAPuc14W

— wendy brannigan (@wendynwo) July 10, 2017
The habit recently infuriated Nick Kyrgios, who complained that
Nadal took too long between serves
.
He will also request his towel after every point, and perform the same footwork routine in between with his right foot stepping first across the left.
While the eccentric habits may seem funny to some, psychologist Christoper Mogan said they are no laughing matter. In 2014, Mogan sent a complaint to Channel Seven after Jim Courier and Lleyton Hewitt made repeated comments on Nadal's rituals during a match against Gael Monfils.
"What upset me is that I think it's known that Rafa has obsessive-compulsive indications," Mogan told the Sydney Morning Herald.
"Two to three per cent of people have this seriously disabling condition and they would be identifying with him – when he does his square walk … how he places his bottles in a row, very carefully.
"They are routines, but the point is they're meant to try and control anxiety. It's about getting a 'just right' feeling: 'I can feel just right if I line my bottles up'. It brings a sense of completion, and if you leave something incomplete, it creates a stress.
"It is possible it could be just a manifestation of the control athletes seek to get."
Join Over60
Join our community of over 400,000-plus members today and get the latest Over60 news, offers and articles.
Get all the latest Over60 news, offers and articles.