Mum's unconventional hack divides opinion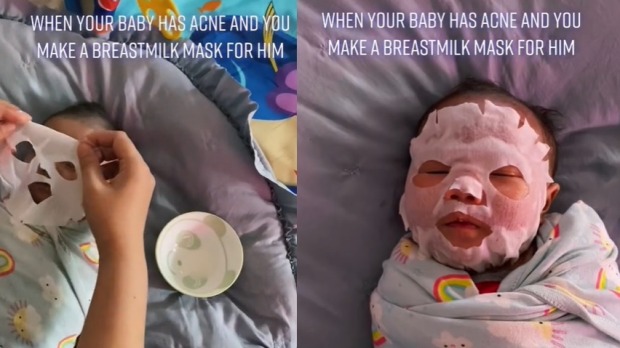 A new mum's unconventional solution for her baby's acne has divided the internet, due to the presence of one unconventional ingredient.
Linh Ta took to TikTok to share her hack, filming herself placing a face mask sheet in a bowl of liquid before applying it to her son Levi's face.
In the clip, Linh Ta reveals the bowl contains liquid gold, telling followers that she uses breast milk to soothe her son's skin.
"When your baby has acne so you make a breast milk mask for him," she captioned the clip.
Baby Levi can be seen sleeping peacefully as she puts the mask on him, which she leaves on to help his skin absorb the milk.
In the comments, Linh Ta explained she made the mask "purely out of boredom" and "just to have a little fun".
"I'm a first mum so I'm learning things as I go," she said.
The video, which has been viewed more than four million times so far, has divided other users on the platform. Some were fans, while others were less enthusiastic.
"Sooo cute! But the acne will pass. It's just your hormones leaving their body. It's not like our acne," one fan explained.
"Um my heart is screaming, this is too cute. Not me going to cut up a dry wipe and do this on my nine-week-old," another agreed.
"This just rubs me the wrong way," one user argued.
"Mini serial killer mask," another added.
In a follow-up video, Linh Ta shows Levi's clear face in response to a fan asking for before and after photos.
"They were red and raised before and now the redness has subsided," she said in the update.
Though there is no scientific evidence supporting the use of breast milk to treat baby acne, some people swear by the remedy.
Since breast milk has antimicrobial properties, the breast milk may help reduce or destroy bacteria and other impurities that block the baby's pores and cause acne.
However, research from the International Journal of Childbirth recommends simply keeping the baby's skin clean with soap and water and avoiding oils or lotions that could worsen the acne.
Images: Tiktok