Woolies takes down "scary" displays while Coles stands firm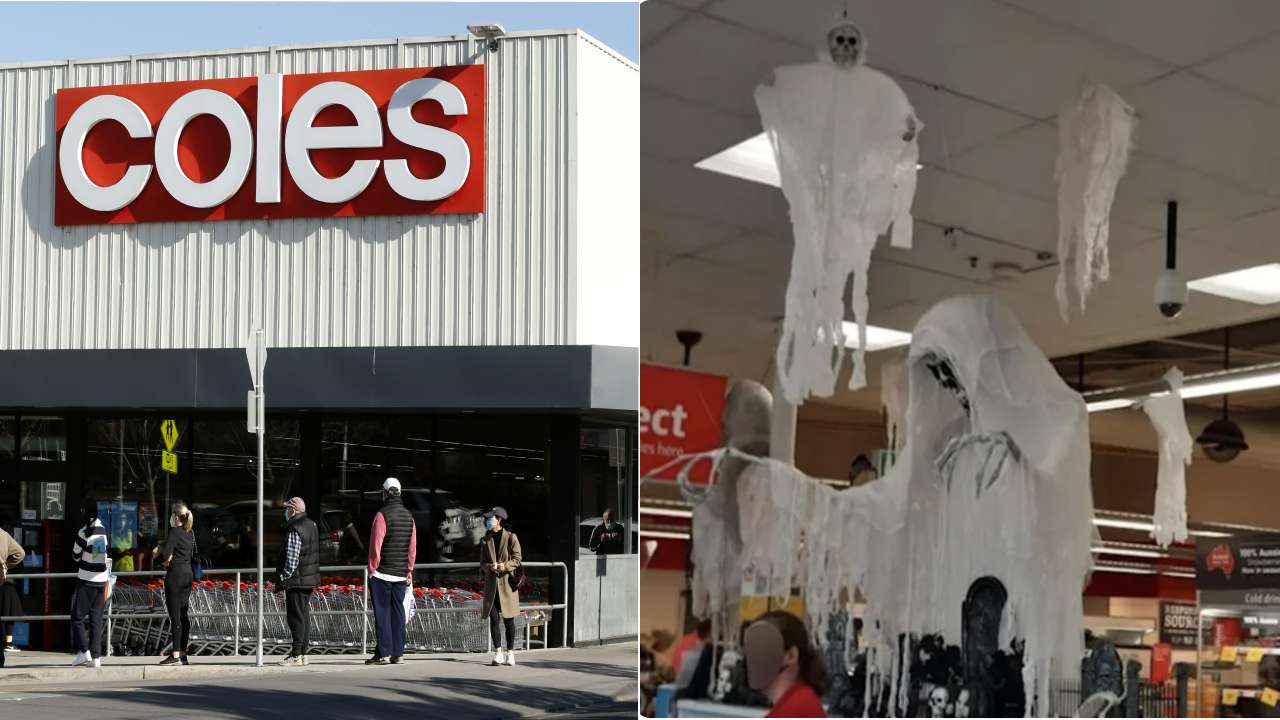 Image: Facebook and Getty
A Coles customer did not receive quite the reaction they were expecting after sharing her concerns on Facebook over "frightening" in-store Halloween displays.
The concerned mother slammed the Halloween displayed she encountered at the storefront of Coles' Ferny Grove store in Brisbane, claiming it is too scary for children.
But a lot of people commenting on the post disagreed, accusing the shopper of being "overly sensitive", and instead vehemently hoping the decorations would remain up.
The display in question features a large skeletal prop looming over the front counter at the Brisbane shopfront, as well as several skeletons playfully suspended from the ceiling.
"I was quite taken aback by the Halloween display at the storefront counter with the skulls and quite scary/frightening things and gravestones for young children to see," wrote the concerned mum.
She explained that she mentioned her concern for young children to the woman at the checkout and asked if she could raise it with the manager, but says her request was denied.
"I do think that you should try to keep Halloween decorations in all stores light and not leaning too dark and scary/frightening for young children," she said.
"Not all of us want to explain to young children why there's a skull at supermarket entrances when they cannot understand things yet, but just sees images and cannot choose what they wish to see or not."
A Coles spokesperson told Yahoo News Australia that stores are getting into the spirit of Halloween with spooky displays. "Every year we see more customers looking for ways to celebrate the fun of Halloween and some of our stores are getting into the spirit with spooky decorations."
"Our intention is to inspire customers, not frighten them, so we are grateful for customer feedback and will follow up with our stores."
Despite several customers echoing similar sentiments over the spooky Halloween displays popping up in Coles stores, the majority of people defended the supermarket.
"I couldn't disagree more. My three and six-year-old love the display, it's a work of art and a great conversation piece," wrote one Ferny Grove shopper in defence of the supermarket.
"I've heard many positive comments and think this sensitivity is too much."
Another wrote: "I really hope these stay".
"The Ferny Grove team put an amazing amount of effort into it and the majority of locals love it. Hopefully one negative Karen doesn't ruin it for the rest of us," they said.
A third shopper wrote: "Love the Halloween display. My children have been brought up to be resilient and I talk to them and explain things, so they don't become scared of a plastic display."
It's not just Coles copping flak from customers over their Halloween displays, with Woolworths being forced to take down their spooky display in a Western Australian store.
A local mother shared a post to Facebook on Friday, asking for the Grim Reaper skeletal display at Woolworths Esperance be taken down as it was "too scary".
"We want all customers to feel comfortable and welcome in our stores, and appreciate this customer's feedback on the decorations at her local store," the Woolworths store said in a statement.
"We have passed this feedback on to the store team, who have since amended the display."