"Two points I want to address": Senator Penny Wong delivers a message to Israel Folau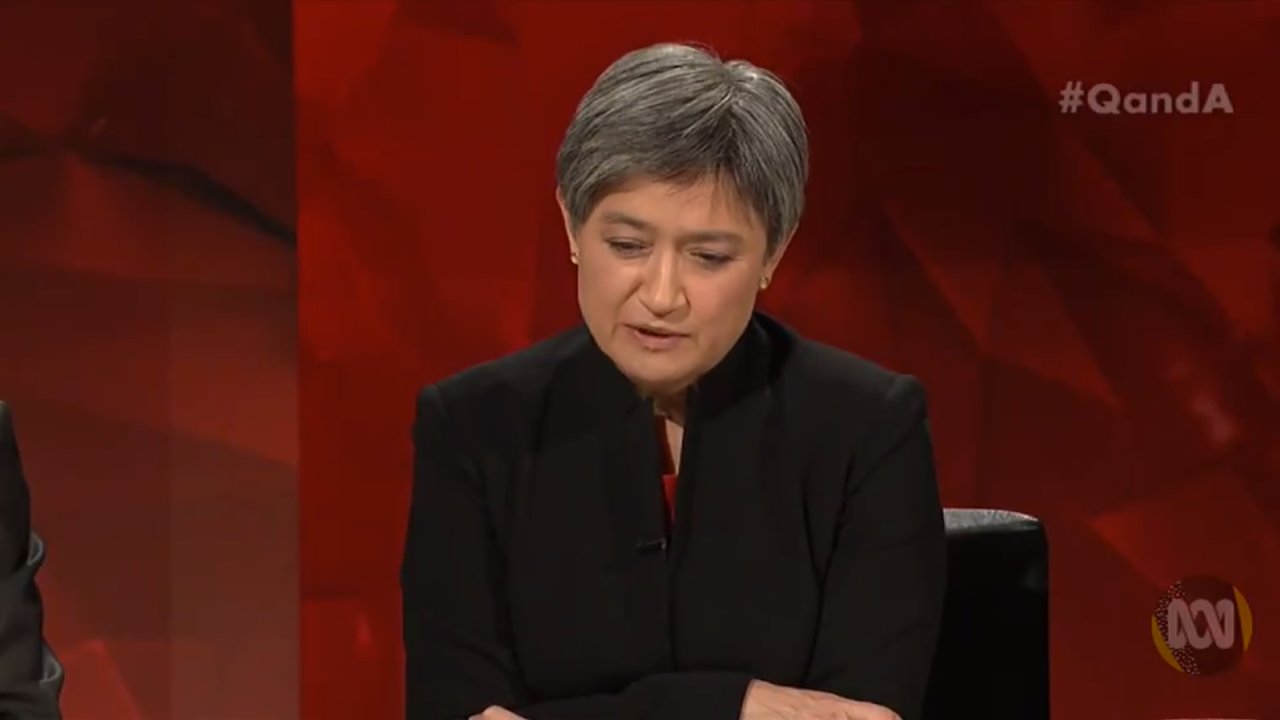 Labor Senator Penny Wong had a two-fold statement to give to Israel Folau on ABC's Q&A last night.
Wong was responding to a question from an audience member that asked whether the response to Folau's comments would be different if he was a Muslim instead of a Christian.
Wong took a moment to compose herself before answering the question.
If Israel Folau were a Muslim would the Attorney-General be considering new laws to protect religious freedoms? #QandA pic.twitter.com/rMNFdTomkn

— ABC Q&A (@QandA) July 8, 2019
"OK, two points I want to address," Wong began.
"First, in relation to Mr Folau, can I say — first on an emotional level — I wish that we could have more expressions of love and forgiveness rather than condemnation when it came to belief.
"I wish public figures, politicians, sporting stars, may consider … where their words land with vulnerable Australians."
Wong is a practicing Christian herself who attends Pilgrim Uniting Church in Adelaide and made it clear that she sees the religion that herself and Folau share very differently.
"He is entitled to his beliefs," she said. "I disagree. I think we ought remember he doesn't speak for all Christians.
"In terms of the broader issue, we are an accepting, tolerant nation … Whatever happens in this current debate around religious freedom, I think we mustn't lose sight of those key characteristics of Australian identity.
Wong continued by explaining that the aim of religion isn't to become less "tolerant".
"We don't want to become less accepting, less tolerant. We don't want to abrogate our agreed view that people are entitled to equality before the law, that we believe that people are equal, regardless of gender, race, faith, sexuality, disability, etc.
"We should hold to those objectives, that we're not seeking to diminish that. I'm open to a discussion about how we deal with religious protections.
"But I would make this point: There is a distinction between a right to belief and the assertion that that belief should lead to you being treated differently before the law."
Human rights lawyer Diana Sayed, who was also on the panel, said that the Morrison Government must not "give people a licence to discriminate". This is in reference to the religious discrimination bill that has been developed in response to the controversy around Folau.
"It is really important that this bill strikes a balance that people who are free to practice their religion are not granted a licence to discriminate," she said.
Join Over60
Join our community of over 400,000-plus members today and get the latest Over60 news, offers and articles.
Get all the latest Over60 news, offers and articles.