What's it like to go indoor skydiving?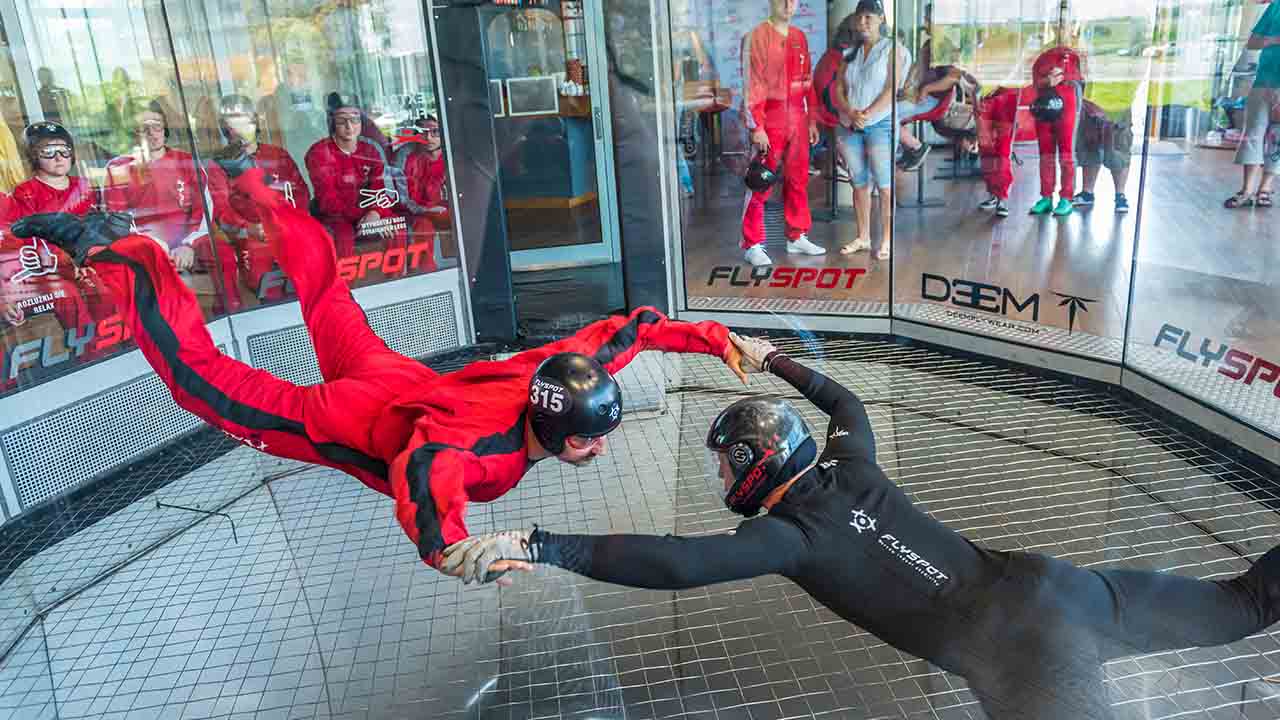 Indoor skydiving is a fun way to experience what it is like to fly through the air with the greatest of ease.
Q. What is Indoor skydiving exactly?
Indoor skydiving is where you simply lean forward inside a giant glass tunnel into a column of air and float effortlessly into flight guided by qualified instructors. There's no parachute, no jumping, and nothing attaching you to planet earth! It's just you, 'flying' in the air and getting an incredible adrenaline rush.
Q. Is indoor skydiving safe?
Yes. Every aspect of the wind tunnel design has been carefully considered to create a fully controlled environment that provides total safety. Certified and highly-trained instructors are with you at all times during your flight, to give guidance and reassurance.
Q. Is it hard to breathe during the flight?
Not at all. It's a similar sensation to sticking your head out of a car window when it's moving. You'll feel the wind rush over your whole body as it lifts you effortlessly upwards. Just breathe normally and enjoy the ride.
Q. How long is a flight?
Each flight within the wind tunnel lasts for almost 1 minute. That's actually more freefall time than a skydive from 14,000 feet. Standard flight packages includes 2 flights, with an instructor helping you make the most of your time.
You can also choose to add additional flights to your packages. The whole experience normally takes approximately 1.5 hours, however this will be dependent on your group size and how many flights you are doing.
Q. Is indoor skydiving scary?
It's really exciting and challenging, but indoor skydiving isn't what we call scary. You don't have to leap off anything and there's no sensation of falling or anything that could make you feel motion sickness. Anyone can try it.
Q. Do I jump in from the top?
No, you just step into the flight chamber at ground level with your flight instructor. First time flyers generally only fly a couple of metres above the net with your instructor beside you all the way.
Q. Who can fly?
There's no experience required, so beginners, intermediates and experts can all fly. Of course, you need to be in good health and physical condition. If you've had a prior shoulder dislocation or back or neck problems, you need to contact the company before booking to discuss your suitability.
Anyone with a hard plaster cast, who is pregnant or under the influence of alcohol or non-prescriptive drugs is also unable to fly. Facilities are wheelchair accessible and can fly people with certain physical disabilities, including amputation and paraplegia.
Q. How old do you have to be?
Flyers can be as young as 3 years old, with no upper age limit. Children under 18 years of age need to have a parent or guardian's signature on their waiver.
As indoor skydiving has taken off, there's bound to be a venue near you!
Have you gone indoor skydiving before? What was it like? Let us know in the comments.
Written by Editor. Republished with permission of Wyza.com.au.
Join Over60
Join our community of over 400,000-plus members today and get the latest Over60 news, offers and articles.
Get all the latest Over60 news, offers and articles.