Tennis fans shred Rafael Nadal over blunder in Roger Federer chat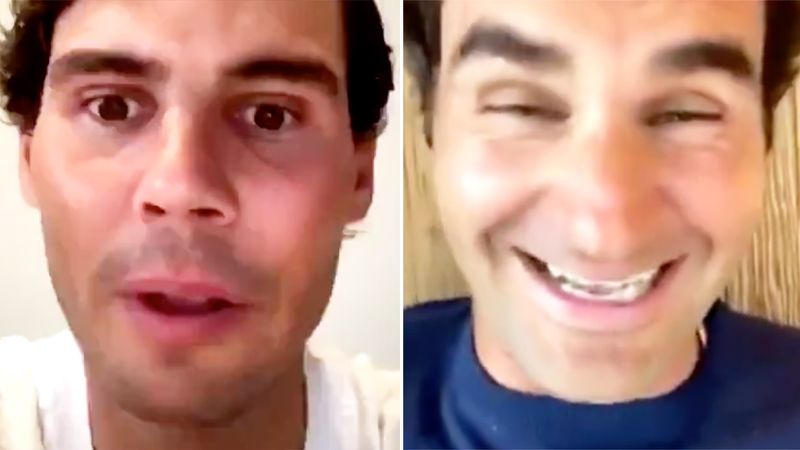 Throughout his incredible career, it has taken a pretty special opponent to make Rafael Nadal worry, but the Spanish great met his match in the form of Instagram Live on Monday.
The 33-year-old can make any of his rivals break into a sweat. Whether that's with his wickedly spinning forehand or backhand, everyone in the tennis world fears his name.
But fans on his social media witnessed a completely different side of the Mallorcan as they eagerly awaited his live chat with Swiss legend Roger Federer.
He may have 19 Grand Slam titles, one shy of Federer's all-time men's record, but when it comes to IT skills, he resembled a Sunday morning park hacker crumbling under pressure.
With 40,000 viewers tuning in, a confused Nadal blankly stared into cyberspace, as he tried to work out why Federer, who is currently isolating at home in Switzerland, refused to appear.
Eventually to Nadal's obvious relief, the tennis champion popped up to speak briefly about how he's dealing with the shutdown amidst the pandemic.
"Finally!" said Nadal.
Federer revealed he had been practising against a wall, when not spending time with his four children. But Nadal admitted that he hadn't been training at all. "Perfect! You won't be able to play tennis any more when you come back," said a laughing Federer.
Federer said the extended lay-off has meant he has had time to rehab his right knee after surgery in February.
"I've got plenty of time, there is no stress, no rush, if there is a positive that's it," he said.