New app kin2kin enables you to message family for free

When 72-year-old John Smith and his wife, Irene, were flying to see family in the UK in June this year, disaster struck. The New Zealand-based couple were en route from Auckland to Singapore when John had a mini stroke on the plane. Fortunately, there were two doctors on board and the plane was diverted to Adelaide, where John was able to get to the hospital for the help he needed.
During this time, John turned to new app kin2kin to let his family know what happened. John was not only able to communicate with his family in a quick, timely and private manner, his granddaughters were able to send him back a picture wishing their grandad to get well soon.
"I received that while I was in bed, so that was a very emotional moment," says John.
John is just one of the many grandparents who have embraced the new app kin2kin. With many families these days spread across the world it can be quite hard, especially for grandparents, to keep in touch with the fast-paced lives of their children and grandchildren. While there's Skype (figuring out time-zones can be tricky) or email (not the favoured form of communication with the younger generation) and Facebook to keep up to date with your friends and families, there's nothing that combines all of the above for families to connect.
Enter kin2kin, a free, private photo and messaging app for families. Families can message each other and share photos on the app, with the knowledge everything on the app is for the families eyes only – and even then you can choose which family members see it.
The brainchild of New Zealander Hamish McGregor, kin2kin only launched earlier this year but has already attracted users from 51 countries. With a mission to foster stronger relationships in families – no matter you age, how busy you are or how far apart you live – kin2kin is the app many families have been waiting for.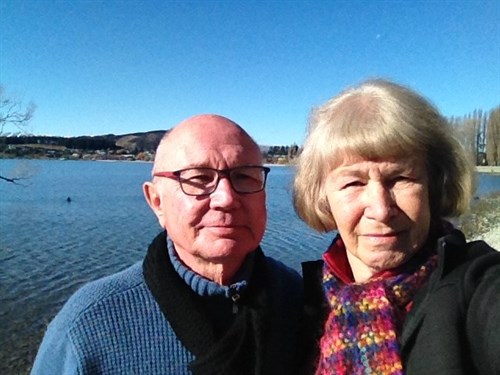 "Before [kin2kin] we used the phone, text and Facebook," says John, who's recovered fully from his scare, "But this is easier to use."
Privacy and safety is also a concern for John and he likes the secure nature of new app.
"It's restricted to the family – so I can control who sees the pictures and comments. I find it more useful than Facebook," he says, adding, "I have no privacy issues – if I take a photo of the kids in water and send it on kin2kin, I know it won't go someplace I don't want it too.
Like many others, John likes how it's just a family app.
"I can keep in touch [with the grandchildren] without prying," he says. "If I use Facebook I feel like I'm prying into their life. The younger generation use Facebook for talking to friends, they use kin2kin to talk to me."
5 reasons why kin2kin is great for families
It's a fast, secure, simple way to share photos and keep up to date with the lives of children and grandchildren in a private group.
You can have overlapping closed groups that are unique per household. This allows close family members to have similar-but-different groups. Grandparents and grandchildren can connect directly on the app, messaging each other and sharing photos, fostering a stronger relationship, even if you live in different countries.
It's safe for young grandchildren who may not be old enough to have a device or a social media account yet. Parents can set up a personal account for young kids on kin2kin that can be managed.
It's simple to use – even if you're not the savviest person with technology, you'll be able to use the app.
It's just for families. Most of the other social networking apps are for connecting with friends, families, work colleagues, but kin2kin is dedicated to family. There's no distracting news feeds with other people's updates, it's just for families.
The kin2kin app is free to download
here
.
kin2kin has created a guide especially for Over60 to help you use the app. For more information, visit their website here.
Related links:
What to do when you lose a phone
A love hate relationship with technology we'll all relate to