The truth behind Elton John's toxic relationship with his mother Sheila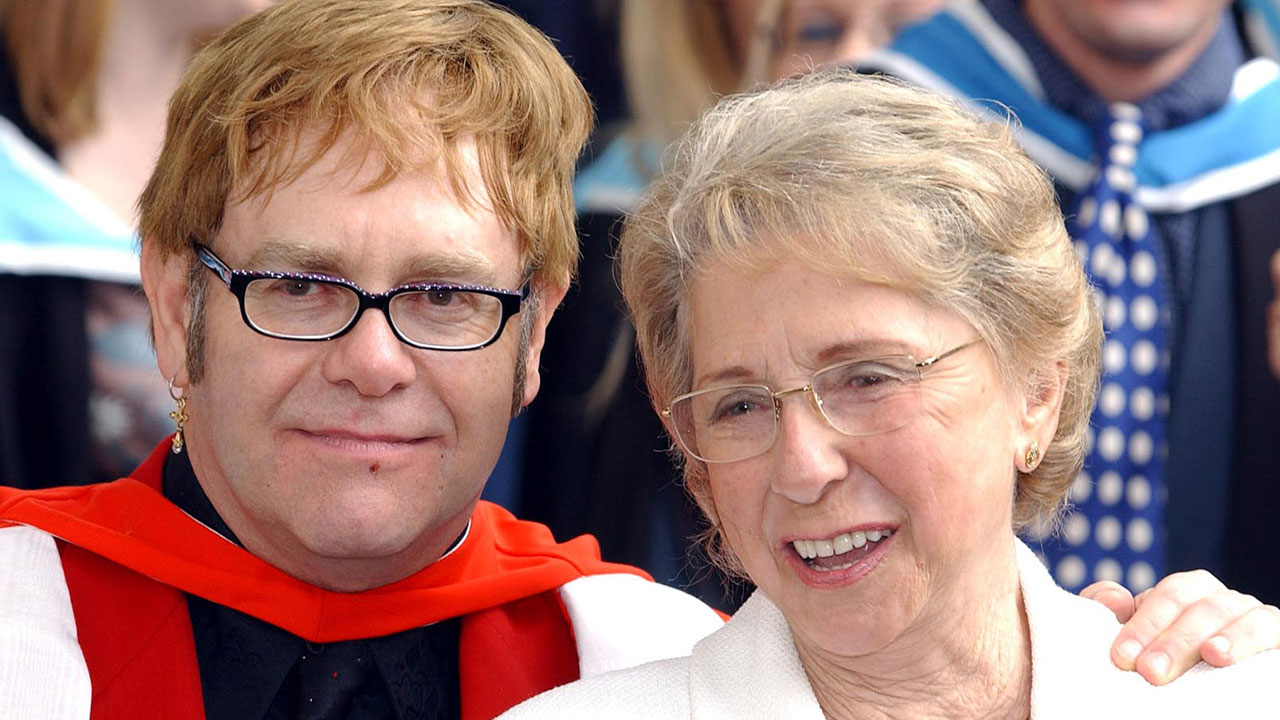 Before hopping into the nearest phone booth to come out to his mother, Elton John took a swig of whisky.
"I'm a homosexual," he told her through tears.
"I know," his mother Sheila Farebrother responded, telling him soon after to keep the news to himself.
"You're choosing a life of being alone forever. You'll never be loved properly."
In the new just-released biopic Rocketman, based on the life of Elton John, one of the reoccurring themes in the film is the tumultuous relationship the singer had with his mother.
The biopic shows Sheila Farebrother (played by Bryce Dallas-Howard) to be cold towards her only son (played by Taron Egerton) as their relationship constantly steered towards the realm of toxic.
And the truth is, their relationship on the big screen was an accurate portrayal of what Elton faced in real life.
The performer didn't share a mother-son bond with Sheila, as she left him estranged during his childhood.
In the earlier years of his life, the pair struggled with their relationship, but things became messier during a civil partnership ceremony of Elton and his now husband David Furnish back in 2005.
As reported by The Sun, Farebrother was told she could not appear in any of the photos as she refused to wear a hat.
"That didn't go down well with Furnish because he wanted it to be the Wedding of the Year," Farebrother revealed.
Fast forward to two years later when the relationship suffered yet again after Elton failed to visit Fred, his stepfather and Farebrother's husband, before he passed away.
"I think [Fred] was just hung on thinking that Elton would come to see him, and he never did," explained Farebrother.
But come 2008, and Elton decided to sever ties with his mother completely.
The pair were embroiled in an argument after Elton wanted his mother to distance herself from two of their oldest and closest friends – Bob Halley, who had worked with the singer before, and John Reid, the musician's former manager and partner.
After she refused, Farebrother ended up losing whatever was left of her relationship with her son.
They didn't talk to one another for eight years.
"I told [John]: 'I'm not about to do that and drop them. Bob is like a son to me. He has always been marvellous to me and he lives nearby and keeps an eye on me,'" Farebrother told Daily Mail at the time.
"Then to my utter amazement, he told me he hated me. And he then banged the phone down. Imagine! To me, his mother!
"He told me I thought more of Bob Halley that I did of my own son," she continued.
"I said to him, 'And you think more of that f*cking thing you married than your own mother," she said of Elton's husband David Furnish.
Then, in rather aggressive terms, Farebrother said that she'd like to "give Furnish a punch right on the bloody earhole".
Soon after, Elton spoke up about his qualms.
"I don't hate her, but I don't want her in my life," he said in an interview.
The two began talking again in 2015, when Elton paid for his mother's hip replacement.
Only two years after, she passed away, aged 92.
"So sad to say that my mother passed away this morning. I only saw her last Monday and I am in shock," Elton tweeted at the time.
"Travel safe Mum. Thank you for everything. I will miss you so much. Love, Elton."
After her passing, it was discovered that Farebrother left half of her estate to Bob Halley, with Elton receiving a few family photos and two ceramic urns. The will was allegedly changed three weeks before she died.
Bryce Dallas-Howard sat down with CinemaBlend to discuss her experience playing the important character, and how she came to learn more about their relationship as the days passed.
"I not only struggled to connect, I questioned it. A lot. I had a lot of questions for production, but what I was interested in was hearing about Sheila from people who were not involved in the production," she explained.
So sad to say that my mother passed away this morning. I only saw her last Monday and I am in shock. Travel safe Mum. Thank you for everything. I will miss you so much.

Love, Elton pic.twitter.com/dQKXRbpGRy

— Elton John (@eltonofficial) 4 December 2017
"So I had a lot of confidential conversations, and again and again and again, heard stories where I realised that it was actually worse than what it was on the [script] page," she continued.
"It's not that it tipped over into abuse. But it was absolutely chronic cruelty. It was an incredibly toxic, dysfunctional relationship."
Rocketman is currently showing in cinemas around the country. The movie is rated M.
Join Over60
Join our community of over 400,000-plus members today and get the latest Over60 news, offers and articles.
Get all the latest Over60 news, offers and articles.