Iconic shredded Banksy artwork returns to auction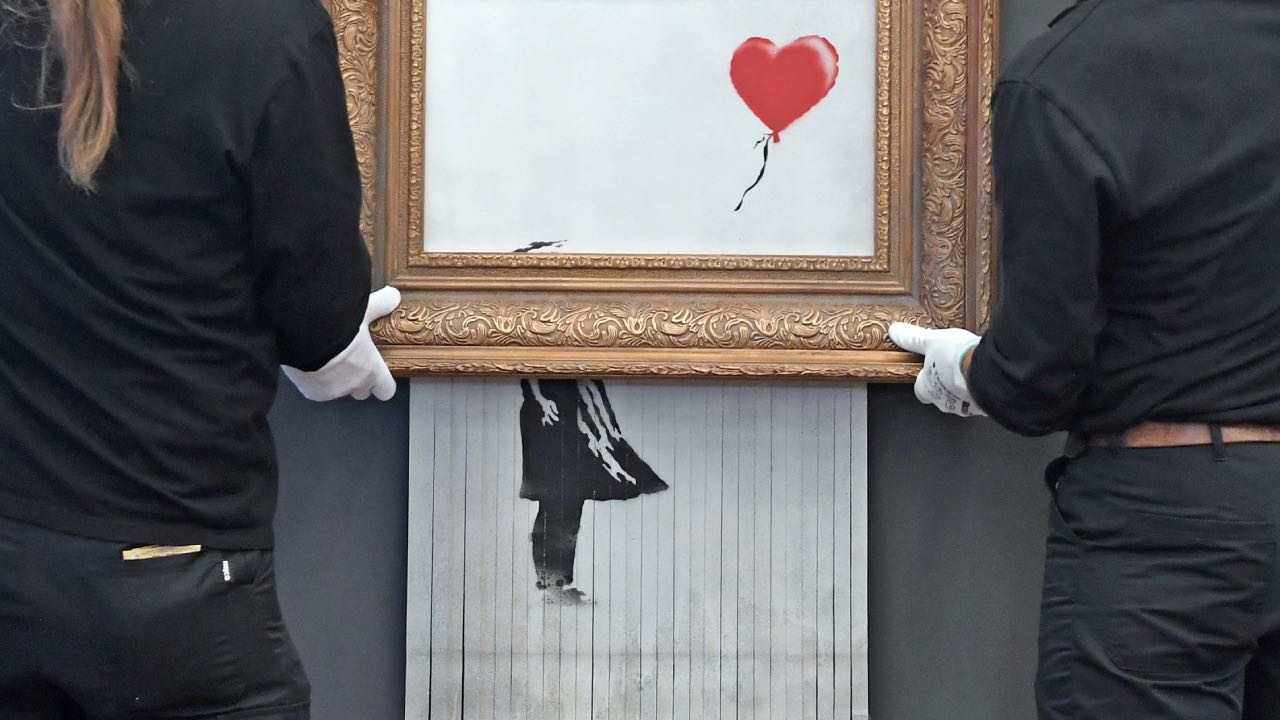 In 2018, Banksy's iconic Girl With a Balloon artwork was sold for just over $1million at an auction in London.
Immediately after the auctioneer's hammer dropped and the sale went through, a shredder built into the frame destroyed half of the image.
Now, three years later, the damaged artwork is returning to auction with an estimated cost of roughly $6million with a new title of Love is in the Bin.
The artwork has been certified by Banksy's authentication committee called Pest Control, and confirmed that the inflated price is due to the viral moment at the auction three years prior.
The elusive street artist has long denied any claims that the auction house in London was behind the stunt, as the winning bid for the work in 2018 decided to keep the shredded artwork in its new form.
Since winning the image, the image has gone on view at two museums in Germany, both boasting massive crowds coming to view the artwork.
In a press release, Sotheby's auction house likened the daring stunt to Robert Rauschenberg's famed 1953 work, Erased de Kooning, as part of a tradition of destroying artworks as an artistic statement.
Alex Branczik, Sotheby's senior director and chairman of modern and contemporary art, said, "Today this piece is considered heir to a venerated legacy of anti-establishment art that began with Dada and Marcel Duchamp more than a century ago."
Banksy shared an image of the artwork getting destroyed at the auction with the cheeky caption reading, "Going, going, gone…"
The destruction of the artwork in such a public setting made global headlines, with many art critics saying it was a social statement to the ownership of art.
Love is in the Bin will go on public display at the same auction house where it was once destroyed, before travelling around the world and returning to London for sale.
Image credit: Getty Images